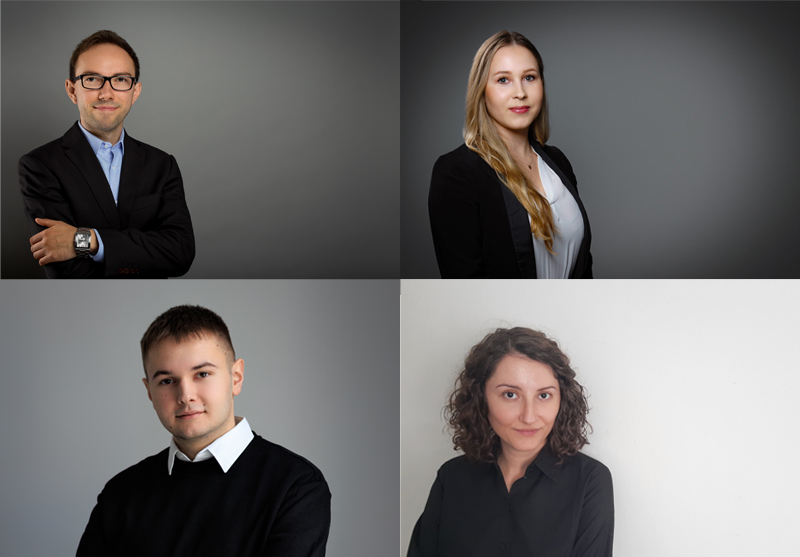 还可以电话联系艾迈斯欧司朗职业团队:Kamil和整个招聘团队为你服务,电话:+49 89 6213 6215,通常工作时间:上午8:00-下午5:00。
注意:请仅使用职位旁边的"立即申请"按钮提交申请。我们只能处理通过在线申请系统提交的工作申请。
需要我们立即答复问题吗?
你想亲自了解我们,并获得艾迈斯欧司朗职业机会方面的宝贵信息吗?欢迎你光临我们的职业会展台。我们的招聘人员可以回答你的问题并提供建议。即将到来:请在以下职业会展与我们面谈吧:
在我们的网站上,你可以找到大量有关艾迈斯欧司朗职业生涯和入职机会的信息。但是,还有谁能比我们的员工自己更好地为你提出的特定问题,给出一槌定音的答复呢?因此,我们鼓励你联系我们专业领域的同事–请在此处查找列表:
Senior Staff Engineer, Garching (Munich). Germany
I am currently part of the application engineering team focusing on creating innovative and high-performance optical sensors. I can answer questions related to working with modern agile development methods and explain how we make use of the latest technologies . I can also answer questions on how to further develop skills, while working at ams OSRAM.
Languages: English, German & Spanish(Beginners level)
Head of corporate communications and marketing communications, APAC, I locate in Shanghai office
I'm more than happy to communicate you and our company for our ultimate common goal – make people's life better and brighter.
Languages: Chinese and English
Gauuthameiswaran Mottiakavandar
Product Development Engineer, Penang
As a Product Development Engineer with a unique blend of experiences spanning the automotive and semiconductor industries, I bring a versatile skill set and a passion for innovation to the table. I take pride in my ability to collaborate seamlessly with cross-functional teams, leveraging my engineering background to drive projects from concept to realization. Continuous learning and staying at the forefront of industry trends are my priorities, as I believe in the transformative potential of semiconductor technology.
Languages: English, German, Malay, Tamil
Senior Project Manager, Singapore
I'm a Project Managers ensuring excellent quality in project delivery and maintaining a high level of customer satisfaction. I am happy to answer your question about ams-osram
Languages: English, Mandarin and Cantonese
Audit Manager, München
As Audit Manager, together with my team I am responsible for the global assessment of our internal processes and procedures in various areas of the company such as sales, purchasing and development. My job is to identify inefficiencies and initiate optimizations, in order to foster continuous improvement. Since my job is very multifaceted I can give a very good overview of ams OSRAM as a whole company and insights into our organization, processes and systems. I am also supporting the exchange of women at ams OSRAM and available for the exchange on the topic family and job and women in management.
Languages: German, English and Spanish
VP – Head of IT Corporate Function & Canada, Quebec (Canada)
I had the privilege of working for this company for over 25 years in Information Technology, residing in many countries across both Europe and North America. This experience not only granted me the opportunity to closely collaborate with colleagues spanning the entire globe, but also allowed me to establish invaluable connections with professionals worldwide. Within this company, you'll encounter daily opportunities to engage with a diverse international group, fostering the potential to evolve into a global citizen by learning from peers and embracing a forward-looking perspective that will facilitate your career growth.
Languages: English and French
Staff Industrial Engineer in Unterpremstaetten (Austria)
In my role as Industrial Engineer, my primary responsibility involves designing and implementing production floor plan modifications to enhance both processing efficiency and logistics.
Additionally, I take charge of in-line inventory and equipment management with the goal of improving our manufacturing process through the adoption of lean practices and digitalization strategies.
Do not hesitate to contact me on LinkedIn if you want more information about my work and what our company can offer for your next career step.
Languages: Italian, English